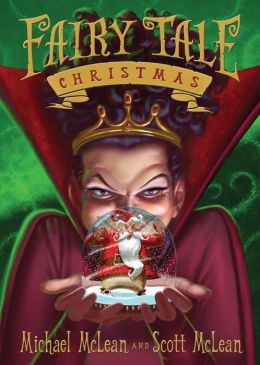 Santa Claus has been kidnapped! Behind the plot are the fairy tale villains: an evil queen, a wicked stepmother, a beanstalk giant, and, or course, the mischievous Rumplestiltskin. They have a plan that will erase the term Happily Ever After from our storybooks forever.
To save the day, the fairy tale heroes must decide if they will sacrifice their happiness so that Santa can bring Christmas to all the children of the world. Christmas is almost her, and time is running out.

Fairy Tale Christmas is a little bitInto the Woods and a little bit How the Grinch Stole Christmas! and features black-and-white illustrations as well as a number of music icons that invite readers to download the free music and listen to the songs sung by the fairy tale characters.

Sure to be a Christmas classic, Fairy Tale Christmas reminds all of us that there is good in everyone and that the magic of Christmas and the spirit of giving can soften any heart.


---
Received for review.
This was such a joy to read from the very first page to the last! The writing was smart and the story incredibly entertaining with the characters, especially The Clandestines, making me smile as I read.
The story itself was fun but had a lovely message to it. It gave me the same warm, fuzzy feeling I had when I watched The Polar Express.
The illustrations were beautifully done and captured the characters and their personalities incredibly well.
This is a lovely book to add to your Christmas reading list and I hope it is only the first in a long series of holiday books from the authors. I definitely highly recommend this!
---
*This post may contain affiliate links*