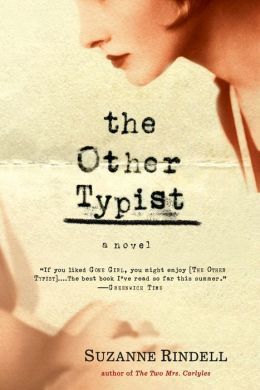 Suzanne Rindell's story of a 1920s police stenographer who becomes increasingly obsessed with a glamorous new typist reminds me at points of Notes on a Scandal and Patricia Highsmith, but has creepy charms all its own."—The Paris Review

Confessions are Rose Baker's job. A typist for the New York City Police Department, she sits in judgment like a high priestess. Criminals come before her to admit their transgressions, and, with a few strokes of the keys before her, she seals their fate. But while she may hear about shootings, knifings, and crimes of passion, as soon as she leaves the room, she reverts to a dignified and proper lady. Until Odalie joins the typing pool. As Rose quickly falls under the stylish, coquettish Odalie's spell, she is lured into a sparkling underworld of speakeasies and jazz. And what starts as simple fascination turns into an obsession from which she may never recover.


---
Received for review.
Very rarely do I read a book that leaves me so confused yet oddly satisfied. When I finished this I found myself thinking "I have no idea what just happened but it was awesome!". I still have no idea what to think about it but I really enjoyed it nonetheless.
The story is very well written and completely captures your attention from the very first page. The story is a bit confusing and difficult to follow at times but that's all intentional. It throws you off just enough to make you wonder just why you're still reading when you have no idea what is going on, yet makes you want to read more ... and more.
Despite the incredibly small and difficult to read text I devoured this amazingly quickly. It just has that certain something that makes it irresistible and impossible to put down.
While I did not identify with any of the characters, and I found both Rose and Odalie both annoying, the story was compelling enough to keep me reading.
If you are looking for a completely different and unclassifiable read then this is it. It's one that you simply will not be able to put down and I definitely recommend it!
---
*This post may contain affiliate links*