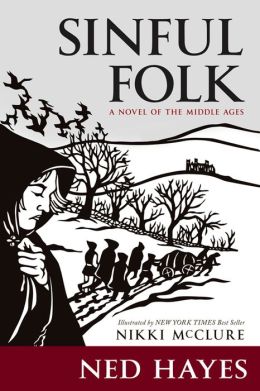 A tragic loss. A desperate journey. A mother seeks the truth.

In December of 1377, four children were burned to death in a suspicious house fire. Villagers traveled hundreds of miles across England to demand justice.

Sinful Folk is the story of this terrible mid-winter journey as seen by Mear, a former nun who has lived for a decade disguised as a mute man, raising her son quietly in this isolated village. For years, she has concealed herself and all her history. But on this journey, she will find the strength to claim the promise of her past and create a new legacy. Mear begins her journey in terror and heartache, and ends in triumph and redemption.

The remarkable new novel by Ned Hayes, illustrated by New York Times bestselling author/illustrator Nikki McClure, Sinful Folk illuminates the medieval era with profound insight and compassion.


---
Received for review.
I really liked the idea of this book more than the actuality. The concept of a band of parents undertaking a long, hard journey to get justice for their murdered children sounded touching but it really wasn't. It was frankly rather boring and it took me forever to slog through it.
The main problem was that you were supposed to feel for Mear and side with her during the journey. This was a bit difficult since she was so thoroughly unlikeable. I felt sympathy that her child was murdered but I felt so sympathy for her concealing herself as a mute man. This concealment was a necessary plot point but it just felt heavy handed. And, the final few chapters and epilogue made me dislike her even more. I gather they were supposed to be a triumphant end to her ordeals but they did nothing for me.
If you can get past the decided unsympathetic main character then this is a very well written but tedious read that some historical fiction fans may enjoy.
---
*This post may contain affiliate links*