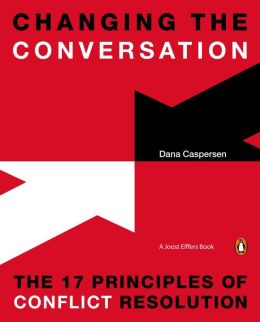 The seventeen key principles for transforming conflict—in a beautiful package from the creator of The 48 Laws of Power

From Joost Elffers, the packaging genius behind the huge New York Times bestsellers The 48 Laws of Power, The 33 Strategies of War, and The Art of Seduction, comes this invaluable manual that teaches seventeen fundamentals for turning any conflict into an opportunity for growth. Beautifully packaged in a graphic, two-color format, Changing the Conversation is written by conflict expert Dana Caspersen and is filled with real-life examples, spot-on advice, and easy-to-grasp exercises that demonstrate transformative ways to break out of destructive patterns, to create useful dialogue in difficult situations, and to find long-lasting solutions for conflicts. Sure to claim its place next to Getting to Yes, this guide will be a go-to resource for resolving conflicts.


---
Received for review.
I was frankly expecting this to be a boring, dry book that would put me to sleep immediately but to my very pleasant surprise it turned out to be a bright, dare I say cheerful, and visually stunning book that was a very good read!
I have to say that while all the strategies are useful and should certainly be considered and applied, my favorite was "If you are making it worse, stop.". Everyone should adopt this as a regular part of daily life no matter what the issue is.
The most powerful words in the book were the last ones of the entire book "Conflict is a place of possibility. Change the conversation.". it's an important reminder to us all.
Overall, this was an enjoyable and educational read and I certainly recommend it.
---
*This post may contain affiliate links*