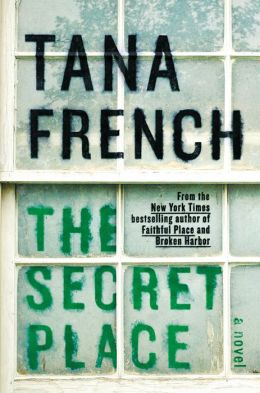 The photo on the card shows a boy who was found murdered, a year ago, on the grounds of a girls' boarding school in the leafy suburbs of Dublin. The caption saysI KNOW WHO KILLED HIM.

Detective Stephen Moran has been waiting for his chance to get a foot in the door of Dublin's Murder Squad—and one morning, sixteen-year-old Holly Mackey brings him this photo. "The Secret Place," a board where the girls at St. Kilda's School can pin up their secrets anonymously, is normally a mishmash of gossip and covert cruelty, but today someone has used it to reignite the stalled investigation into the murder of handsome, popular Chris Harper. Stephen joins forces with the abrasive Detective Antoinette Conway to find out who and why.

But everything they discover leads them back to Holly's close-knit group of friends and their fierce enemies, a rival clique—and to the tangled web of relationships that bound all the girls to Chris Harper. Every step in their direction turns up the pressure. Antoinette Conway is already suspicious of Stephen's links to the Mackey family. St. Kilda's will go a long way to keep murder outside their walls. Holly's father, Detective Frank Mackey, is circling, ready to pounce if any of the new evidence points toward his daughter. And the private underworld of teenage girls can be more mysterious and more dangerous than either of the detectives imagined.

The Secret Place is a powerful, haunting exploration of friendship and loyalty, and a gripping addition to the Dublin Murder Squad series.


---
Received for review.
I have yet to read a book by Tana French that is not thoroughly satisfying and this was no exception. The combination of excellent writing and a fascinating story combine to make the four hundred plus pages simply fly by. As each new clue was revealed and the culprit's identity discovered I could not turn the pages fast enough and I don't think I blinked for pages on end. The sheer desire to know what really happened and why kept me awake long past my bedtime several nights on end.
The characters are beautifully written, if not particularly likable. Stephen and Antoinette make such a unique team with so many layers to their partnership that it's a joy to read about them. The author did a brilliant job of really bringing you inside the world of St. Kilda's and into the heads of the girls who spend their lives there as well.
If you have yet to read a Tana French novel you are truly missing out on a wonderful talent and this would be an excellent place to start. If you are already a fan you will be delighted by this latest addition. I definitely recommend this.
★★★★
☆
= Really Liked It
---
*This post may contain affiliate links*