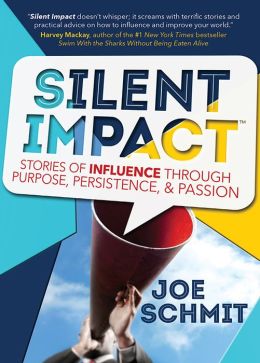 We make our biggest impressions when we are not trying to be impressive.

The words we say or don't say, the things we do or don't do, and the ways we react or don't react can have a tremendous influence on those around us.

In Silent Impact, award-winning broadcaster Joe Schmit tells stories of real people and the ways in which they had profound influence on others in daily life.

He points to simple, powerful lessons in the stories, and will inspire you to recognize your daily opportunities to make an intentional impact on others.


---
Received for review.
While quite slim this is an interesting compilation of stories of successful people, each of which teaches you a lesson that you can apply in your own life to make it better.
I liked the idea of the book but some of the stories were a bit simplistic and not really applicable to everyone. The author seems to believe that if you just try hard enough you can have everything you want in life. That's a great idea, but sometimes it just doesn't happen. The author would probably say that I just have the wrong attitude and haven't grasped the truths of the book.
Overall this was a good read and some of the stories were inspirational, but I really did not find it life changing.
---
*This post may contain affiliate links*