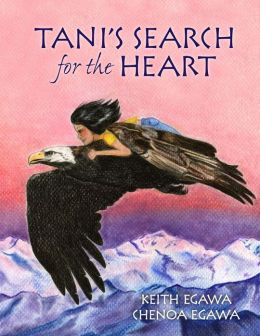 Heartbroken over the loss of her beloved grandmother, Tani, a Native American girl of the Coast Salish people, remembers her grandmother's parting advice to journey into the forest to search for "the heart of all things." Not knowing if she will recognize the answers she seeks, but certain she must abide by her grandmother's wishes, Tani embarks on a quest through the wilds of the Pacific Northwest; unexpectedly finding her way into a world of Coast Salish legend, tradition and self-discovery.

Struggling with self-doubt, Tani is helped through the challenging terrain of her homeland by the wise animals of the forest, such as Bear, Otter and Salamander, the guiding spirit of her departed grandmother, and the magical Stick Indian, whose presence on the shadowy fringes once inspired fear in Tani. Through each new encounter with the animals along the way, Tani moves closer to reaching her goal and revealing the answers she has always carried within.

With each step toward discovering her special place and purpose in the world, Tani's courage grows in the face of uncertainty; awakening her unique gifts and the collective wisdom shared by her people through generations. As her journey finds her standing on the shores of the Pacific Ocean, Tani comes to learn that the heart of all things can be found in the most unexpected places, from her front doorstep to the distant ocean, with very little space between the questions and the answers.

Told in the style of traditional Native American storytelling, this richly illustrated novella shares a subtle environmental conservation message with the reader while exploring the connections between self-confidence, self-reliance and the strength that is found in trusting friendships. Tani's Search for the Heart reminds us of our valuable connection to our ancestors and the natural world; fostering a growing respect for the people, lands and waters that sustain us all.


---
Received for review.
Very rarely do I come across a book that truly touches my heart and this was one of them. Although a children's story it is a lovely read for adults as well. The tale of Tani and her journey is so beautifully told and you can just feel the love and care that has gone into every page that it is a true pleasure to read.
I also loved the illustrations. They are wonderfully done and really help the reader to visualize the characters Tani encounters along her journey. Although I do have to admit that I may be looking over my shoulder for a creepy Stick Indian the next time I'm in the woods!
Overall this was a delightful, touching read that I highly recommend. It would also make a lovely gift for a young reader.
---
*This post may contain affiliate links*