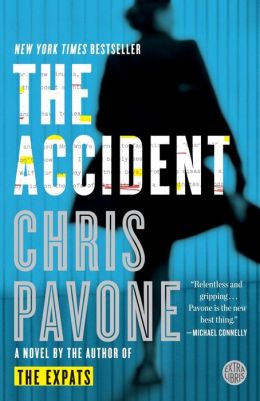 From the author of the New York Times-bestselling and Edgar Award-winning The Expats.

As dawn approaches in New York, literary agent Isabel Reed is turning the final pages of a mysterious, anonymous manuscript, racing through the explosive revelations about powerful people, as well as long-hidden secrets about her own past. In Copenhagen, veteran CIA operative Hayden Gray, determined that this sweeping story be buried, is suddenly staring down the barrel of an unexpected gun. And in Zurich, the author himself is hiding in a shadowy expat life, trying to atone for a lifetime's worth of lies and betrayals with publication of The Accident, while always looking over his shoulder.

Over the course of one long, desperate, increasingly perilous day, these lives collide as the book begins its dangerous march toward publication, toward saving or ruining careers and companies, placing everything at risk—and everyone in mortal peril. The rich cast of characters—in publishing and film, politics and espionage—are all forced to confront the consequences of their ambitions, the schisms between their ideal selves and the people they actually became.

The action rockets around Europe and across America, with an intricate web of duplicities stretching back a quarter-century to a dark winding road in upstate New York, where the shocking truth about the accident itself is buried.

Gripping, sophisticated, layered, and impossible to put down, The Accident proves once again that Chris Pavone is a true master of suspense.


---
Received for review.
I thoroughly enjoyed the author's first book The Expats so I knew this would be equally good and it was everything I'd hoped for and more.
The story was immediately engaging and left me wondering until the ultimate reveal about the identity of the mysterious author. The revelation was brilliant, absolutely brilliant and left me actually saying "Wow!" out loud. It was that good.
It was interesting to follow the story from the various character perspectives and see how things developed for each of them. While I never really liked Isabel as a person she was a brilliant character and very well written.
The level of suspense was consistent and had me hardly blinking as I read. I felt every bit of the mysterious author's anxiety as events unfolded and it made the story that much more intense. The manuscript tidbits sprinkled throughout were delicious little bread crumbs to follow as the story progressed and I couldn't wait until the next one appeared so I could learn more of the story.
Overall, this was a brilliant and a must read for those who enjoy suspense. Fans of Steve Berry will thoroughly enjoy this. I highly, highly recommend it.
★★★★
☆
= Really Liked It
---
*This post may contain affiliate links*