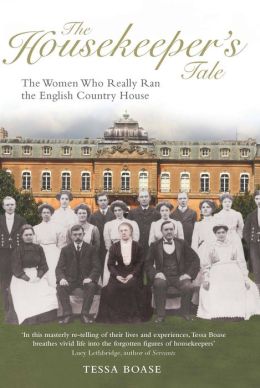 Working as a housekeeper was one of the most prestigious jobs a nineteenth and early twentieth century woman could want—and also one of the toughest. A far cry from the Downton Abbey fiction, the real life Mrs Hughes was up against capricious mistresses, low pay, no job security and gruelling physical labour. Until now, her story has never been told. The Housekeeper's Tale reveals the personal sacrifices, bitter disputes and driving ambition that shaped these women's careers. Delving into secret diaries, unpublished letters and the neglected service archives of our stately homes, Tessa Boase tells the extraordinary stories of five working women who ran some of Britain's most prominent households.

There is Dorothy Doar, Regency housekeeper for the obscenely wealthy 1st Duke and Duchess of Sutherland at Trentham Hall, Staffordshire. There is Sarah Wells, a deaf and elderly Victorian in charge of Uppark, West Sussex. Ellen Penketh is Edwardian cook-housekeeper at the sociable but impecunious Erddig Hall in the Welsh borders. Hannah Mackenzie runs Wrest Park in Bedfordshire—Britain's first country-house war hospital, bankrolled by playwright J. M. Barrie. And there is Grace Higgens, cook-housekeeper to the Bloomsbury set at Charleston farmhouse in East Sussex for half a century—an era defined by the Second World War.

Revelatory, gripping and unexpectedly poignant, The Housekeeper's Tale champions the invisible women who ran the English country house.


---
Received for review.
Despite the author's almost overbearing feminist interpretation of the various stories this was actually a surprisingly good read.
The author seems to forget for 99% of the book that these were different women in a different time and place and that their lives and choices cannot be compared to life in the present day. I was particularly appalled by the author's shock and horror that one housekeeper was dismissed after she requested six weeks of maternity leave. Well, considering it was part of her job not to get knocked up when she did she should have prepared to leave her post. She knew the consequences of her actions and deliberately decided to disregard the rules because she was clearly too good for them so she shouldn't have been surprised when she was dismissed.
The stories of the five women are certainly interesting, but the feminist slant the author lends to them is not attractive and makes for rather frustrating reading. These stories were clearly chosen to present a view of repressed, unappreciated women to further the author's own agenda.
So, while this well written book does make for an informative read it must be taken with a very large, perhaps boulder sized, grain of salt. I can't say that it was an entirely enjoyable read, but it was certainly educational on various levels. While I can't particularly recommend it it is worth a look.
---
*This post may contain affiliate links*