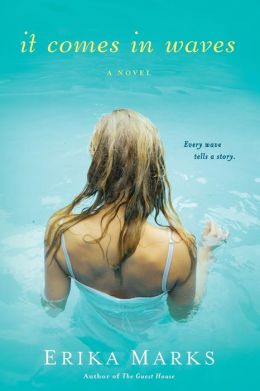 For competitive surfer Claire "Pepper" Patton, the waves of South Carolina's Folly Beach once held the promise of a loving future and a bright career—until her fiance, Foster, broke the news that he and Claire's best friend, Jill, were in love.

Eighteen years later, now forty-two and a struggling single parent to a rebellious teenage daughter, Claire has put miles between that betrayal and that coast. But when ESPN invites her back to Folly Beach for a documentary on women in surfing, Claire decides it might be the chance she needs to regain control of her life and reacquaint herself with the unsinkable young woman she once was.

But not everything in Folly Beach is as Claire remembers it, most especially her ex-best friend, Jill, who is now widowed and raising her and Foster's teenage son. An unexpected reunion with Claire will uncover a guilt that Jill has worked hard to bury—and bring to the surface years of unspoken blame.

When Claire crosses paths with a sexy pro-surfer who is as determined to get Claire back on a board as he is to get her in his bed, a chance for healing might not be far behind—or is it too late for two estranged friends to find forgiveness in the place that was once their coastal paradise, where life was spent barefoot and love was as dizzying as the perfect wave...


---
Received for review.
This was fairly standard Chick Lit, light and fluffy and incredibly predictable, but still a decent read.
Claire did nothing for me as a person. I didn't care for her at all. Who in their right mind thinks that it's a good idea to get back into contact with the bitch who stole your fiance (who then married and had a kid by him)? Why would you possibly think that that would be an intelligent thing to do? Claire just refuses to move on from her past. She just wallows in it and tries to repair her relationship with her ex-best friend. Why is she even having any contact with her? And Jill's attitude about the whole thing is simply obnoxious. It's just unrealistic and, frankly, stupid.
The Claire's present day romance was entertaining if, again, ridiculously predictable. It was well written enough to make even the most far fetched bits seem fairly reasonable in the context of the story.
Overall, if you're looking for a fast, fluffy read and can suspend your disbelief over the two women's behavior this is a decent read and should be enjoyable for those who enjoy Chick Lit.
★★★
☆☆
= Liked It
---
*This post may contain affiliate links*