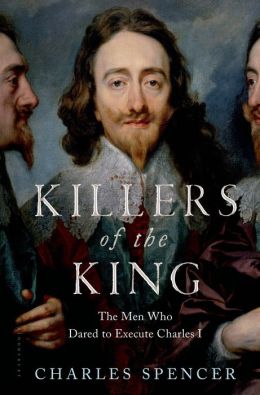 On August 18, 1648, with no relief from the siege in sight, the royalist garrison holding Colchester Castle surrendered and Oliver Cromwell's army firmly ended the rule of Charles I of England. To send a clear message to the fallen monarch, the rebels executed four of the senior officers captured at the castle. Yet still, the king refused to accept he had lost the war. As France and other allies mobilized in support of Charles, a tribunal was hastily gathered and a death sentence was passed. On January 30, 1649, the King of England was executed. This is the account of the fifty-nine regicides, the men who signed Charles I's death warrant.

Recounting a little-known corner of British history, Charles Spencer explores what happened when the Restoration arrived. From George Downing, the chief plotter, to Richard Ingoldsby, who claimed he was forced to sign his name by his cousin Oliver Cromwell, and from those who returned to the monarchist cause and betrayed their fellow regicides to those that fled the country in an attempt to escape their punishment, Spencer examines the long-lasting, far-reaching consequences not only for those who signed the warrant, but also for those who were present at the trial and for England itself.

A powerful tale of revenge from the dark heart of England's past, and a unique contribution to seventeenth-century history, Killers of the King tells the incredible story of the men who dared to assassinate a monarch.
---
Received for review.
Charles Spencer is perhaps better known as Princess Diana's brother so I was a little surprised to discover that he is also a very talented author.
This reads like very well written historical fiction, but it's actually all completely historically accurate events. It's impeccably researched and follows each regicide to their ultimate demise. Even though the events took place nearly five hundred years ago I was glued to the pages eager to find out what would happen next as each was hunted down.
As an American I found it especially interesting to read about those who chose to flee to the colonies and how they were initially welcomed here. One particular sentence summed it up beautifully:
These developments transformed their status in New England from one of honoured guests to that of contagious fugitives.
I was actually a bit surprised by how the men were protected in Massachusetts and Connecticut not sent back to face their fates in their homeland.
This was a truly fascinating and genuinely enjoyable read. The author transformed a potentially dry and boring topic into a lively, entertaining read that I simply could not put down. This is absolutely a must read for anyone interested in English history and I highly, highly recommend it. I enjoyed it so much that I will be picking up the author's other books and I can't wait to see what his next topic will be!
★★★★★
= Loved It
---
*This post may contain affiliate links*