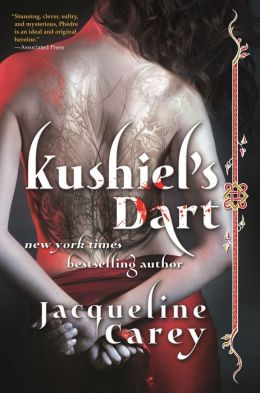 "When Love cast me out, it was Cruelty who took pity on me."

In a kingdom born of angels, Phedre is an anguisette, cursed or blessed to find pleasure in pain. Sold to the Court of Night Blooming Flowers, her fate as a beautiful but anonymous courtesan was sealed. Her bond was purchased by the nobleman Anafiel Delauney, who recognized the scarlet mote in Phedre's eye as the rare mark of one touched by a powerful deity. Under Delauney's patronage she is trained in history, politics, language, and the use of body and mind as the ultimate weapon of subterfuge in a dangerous game of courtly intrigue.

Guided into the bed chambers of Terre D'Ange's most influential nobles, Phedre uncovers a conspiracy against the throne so vast that even her teacher cannot see the whole of it. As her nation is besieged by invading hordes from the north, the most unthinkable threat to her beloved home comes from traitors within. Betrayed and blindsided by her own longings, only Phedre and her trusted bodyguard Josselin are left to cross borders and warring armies in a race to stop the final blow from falling.

Enter a lush world of pleasure houses, ambitious warlords, scheming courtiers, and the harsh justice of blessed deities through the eyes of a heroine like no other. Sprawling and darkly sensual, Jacqueline Carey's Kushiel's Dart is the start of a truly original fantasy series.
---
Received for review.
As with any fantasy fiction you have to suspend your disbelief and just go with the story. This is rather difficult to do at first since there are just SO many characters (with Tolkien-esque names) to keep track of that you aren't really drawn into the story as you normally would be. It reminded me of Game of Thrones with the huge cast of characters to try to remember, along with its historical setting.
Once you finally get everyone straightened out (at about page 200) the story picks up and becomes a quite enjoyable read. There's plenty of court intrigue, espionage antics, and a good dose of sex which keep the plot moving along nicely.
While this is a good read it is rather slow due to all the unfamiliar fantasy names combined with a distinctly dense writing style. Fans of George R.R. Martin should enjoy this and not mind the denseness and I definitely recommend it to them.
★★★★
☆
= Really Liked It
---
*This post may contain affiliate links*