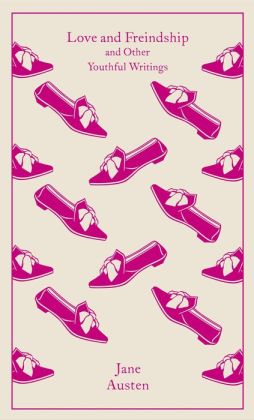 Austen's hilarious early stories and sketches—complete with her delightfully quirky spelling habits—now collected in one gorgeous clothbound volume

Jane Austen's earliest writing dates from when she was just eleven-years-old, and already shows the hallmarks of her mature work. But it is also a product of the times in which she grew up—dark, grotesque, often surprisingly bawdy, and a far cry from the polished, sparkling novels of manners for which she became famous. Drunken heroines, babies who bite off their mothers' fingers, and a letter-writer who has murdered her whole family all feature in these highly spirited pieces. This edition includes all of Austen's juvenilia, including her "History of England" and the novella Lady Susan, in which the anti-heroine schemes and cheats her way through high society. With a title that captures a young Austen's original idiosyncratic spelling habits and an introduction by Christine Alexander that shows how Austen was self-consciously fashioning herself as a writer from an early age, this is a must-have for any Austen lover.
---
Received for review.
Admittedly, I'm not a huge Jane Austen fan to begin with so this clearly did not carry the same joy for me that true fans would enjoy but it was entertaining if a bit difficult to make my way through. I did enjoy the letters as they seemed to flow a bit better than the rest and made for convenient pausing points in the rather dense text which covers over three hundred pages (thankfully, the final hundred or so pages are full of footnotes).
What really drew me to this though was the beautiful binding. I just could not pass up the lovely ivory fabric with shoes printed on it and the burgundy endpapers. Dedicated Jane Austen fans will find this a gorgeous addition to their collections.
★★★
☆☆
= Liked It
---
*This post may contain affiliate links*