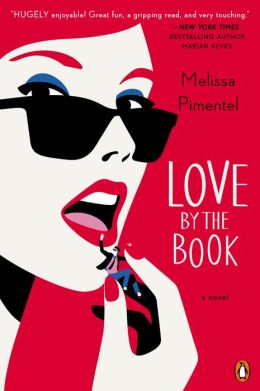 A laugh-out-loud debut novel that will delight fans of Bridget Jones's Diary and HBO's Girls

Love by the Book charts a year in the life of Lauren Cunningham, a beautiful, intelligent, and unlucky-in-love twenty-eight-year-old American. Feeling old before her time, Lauren moves to London in search of the fab single life replete with sexy Englishmen. But why can't she convince the men she's seeing that she really isn't after anything more serious than seriously good sex? Determined to break the curse, Lauren turns her love life into an experiment: each month she will follow a different dating guide until she discovers the science behind being a siren. Lauren will follow The Rules, she'll play The Game, and along the way she'll journal her (mis)adventures and maybe even find someone worth holding on to. Witty, gritty, and very true to life, Love by the Book will have you in stitches.


---
Received for review.
This was perfect! Absolutely perfect! It was not only beautifully written but it had a lovely, genuinely likable main character in Lauren who you really genuinely cared about. It was a true joy to accompany her on her various adventures and laugh and cringe alongside her.
I knew this was going to be a winner from the very first chapter which had this gem:
Most worrying is this: "Don't discuss The Rules with your therapist." Surely it's a red flag if a book is encouraging you to behave in a way that you should hide from your therapist?
I consider a book an unmitigated success if it leaves me smiling and feeling warm and fuzzy after reading the last page and this did. It was absolutely perfect and one of the best books I've read in quite some time. I highly, highly recommend this sweet, fun read!
---
*This post may contain affiliate links*