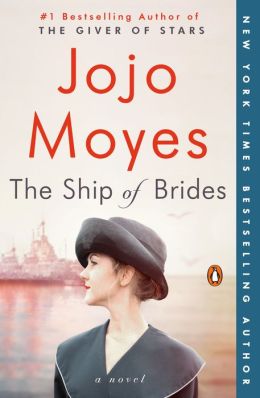 From the New York Times bestselling author of Me Before You and One Plus One, in an earlier work available in the U.S. for the first time, a post-WWII story of the war brides who crossed the seas by the thousands to face their unknown futures.

1946. World War II has ended and all over the world, young women are beginning to fulfill the promises made to the men they wed in wartime.

In Sydney, Australia, four women join 650 other war brides on an extraordinary voyage to England—aboard HMS Victoria, which still carries not just arms and aircraft but a thousand naval officers. Rules are strictly enforced, from the aircraft carrier's captain down to the lowliest young deckhand. But the men and the brides will find their lives intertwined despite the Navy's ironclad sanctions. And for Frances Mackenzie, the complicated young woman whose past comes back to haunt her far from home, the journey will change her life in ways she never could have predicted—forever.


---
Received for review.
I'll admit that I love anything that Jojo Moyes writes and she has become one of my favorite new authors. This was another excellent read that simply does not disappoint. Just reading the description I knew it was going to be good.
The entire premise was interesting - hundreds of women traveling from Australia to England to meet their virtually unknown husbands after the war. I found it even more interesting that the author's own grandmother was one of the women who traveled on that ship in real life.
The whole book had a decided Titanic type feel to it. All those women with all those different stories journeying so far to start a new life. The stories from a variety of women was so fascinating and emotional. I really cared about these women and felt their pain and joy. It's a testament to the author's writing ability that these women just come to life so beautifully for the reader.
This was a lovely read, as I knew it would be, but also incredibly, and unexpectedly emotional. I highly, highly recommend it to anyone looking for an excellent read.
★★★★
☆
= Really Liked It
---
*This post may contain affiliate links*