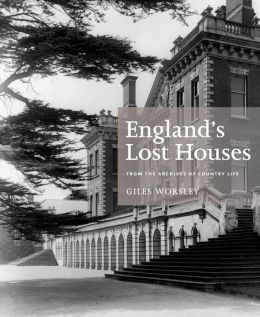 Of all the photographs in the Country Life archive, none are more poignant than the images of houses that have been lost through demolition or fire.

In a great number of cases, the photographs taken by the magazine for their weekly feature on country houses are the only record of many of the most important houses and interiors that were destroyed.







---
Received for review.
This was such a bittersweet book. While admiring the pictures of the beautiful homes it was sad to know that they no longer exist and their splendors cannot be appreciated by a new generation. It really left me feeling like I do when I see pictures of the Titanic. It's hard not to admire the beauty but it's always tinged with sadness since you know the heartbreak that followed.
What surprised me the most in the book was not the gorgeous photographs, but the stories. I never really thought much about how exactly why the homes were not longer lived in but there were heartbreaking tales of family bankruptcies, fire (lots of fire!), and war damage. It was just so sad to read about these once beloved homes being destroyed or, perhaps worse, gutted and left abandoned.
Overall, the book is worth a look simply because of the lovely photographs but the stories are also amazing. I definitely highly, highly recommend this. It would also make a lovely gift.
★★★★★
= Loved It
---
*This post may contain affiliate links*