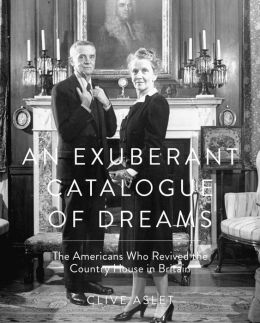 For centuries Britain's country houses had been the exclusive preserve of their traditional landed gentry of lords and ladies, their tenancy legitimized by time-honored ancestry and the accident of birth. But starting in the late nineteenth century an entirely different kind of proprietor began to take up residence. American money – lots of it – came across the Atlantic, in the form of wealthy, eligible heiresses like the Vanderbilts', and fabulously wealthy industrialists and self-made men like William Waldorf Astor and newspaper magnate Randolph Hearst.

Their money purchased grand houses like Cliveden, St Donat's and Leeds Castle; it saved vast piles like Blenheim from dereliction and decay; it brought modern facilities like electric lighting and hot water, Art Deco interior styling and, in the case of houses like North Mymms, turned them into magnificent repositories of cultural artefacts to rival New York's Frick Collection.

Not infrequently the American newcomer (usually female) found the world of the English aristocracy they had married into to be dauntingly austere and emotionally starved; others, like Chips Channon, or May Goelet at Scotland's Floors Castle, brought a gay, hedonistic sociability. Still other Americans, like Lawrence Johnston laying out the garden at Hidcote or latterly John Paul Getty with his idyllic cricket ground at Wormsley, successfully managed to make themselves more English than the English.

Clive Aslet's fabulously illustrated book is the first study of this remarkable and unlikely juxtaposition of two very different cultures, which changed the architecture, the society and the character of English country houses forever.


---
Received for review.
I've always been fascinated by the giant castles and "country houses" of England so snapping this up was a no-brainer for me and it turned out to be just as lovely as I'd hoped.
I have to say that despite their questionable ethics in business the Vanderbilts and Carnegies (and others) did a beautiful job of restoring these massive homes to their former glories. As people they may have been complete assholes but they really did care about their homes, if for the wrong reasons. However, the people they hired to complete the work did an amazing job of saving these masterpieces for future generations. You can just tell that the workers put a lot of love and care into the restorations.
The photographs of each "home" are gorgeous, and the aerial shots are simply stunning. The accompanying stories are incredibly informative and rather quite touching and clearly show how the author feels about the rich American interlopers who took over these majestic homes.
This was a joy to read and I certainly recommend it for anyone interested in the topic. It would also make a beautiful gift.
---
*This post may contain affiliate links*