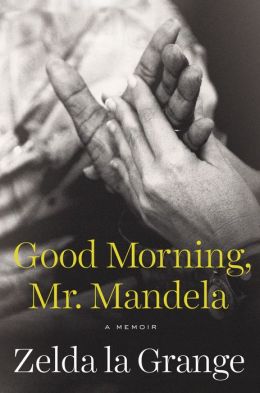 "In Good Morning, Mr. Mandela, Zelda la Grange recounts her remarkable life at the right hand of the man we both knew and loved. It's a tribute to both of them—to Madiba's eye for talent and his capacity for trust and to Zelda's courage to take on a great challenge and her capacity for growth. This story proves the power of making politics personal and is an important reminder of the lessons Madiba taught us all." —President Bill Clinton
"President Nelson Mandela's choice of the young Afrikaner typist Zelda la Grange as his most trusted aide embodied his commitment to reconciliation in South Africa. She repaid his trust with loyalty and integrity. I have the highest regard for her." —Archbishop Emeritus Desmond Tutu

"Zelda la Grange has a singular perspective on Nelson Mandela, having served as his longtime personal aide, confidante and close friend. She is a dear friend to both of us and a touchstone to all of us who loved Madiba. Her story of their journey together demonstrates how a man who transformed an entire nation also had the power to transform the life of one extraordinary woman." —Morgan Freeman and Lori McCreary, actor, producer of Invictus

A white Afrikaner, Zelda la Grange grew up in segregated South Africa, supporting the regime and the rules of apartheid. Her conservative family referred to the imprisoned Nelson Mandela as "a terrorist." Yet just a few years after his release and the end of apartheid, she would be traveling the world by Mr. Mandela's side, having grown to respect and cherish the man she would come to call "Khulu," or "grandfather."

Good Morning, Mr. Mandela tells the extraordinary story of how a young woman's life, beliefs, prejudices—everything she once believed—were utterly transformed by the man she had been taught was the enemy. It is the incredible journey of an awkward, terrified young secretary in her twenties who rose from a job in a government typing pool to become one of the president's most loyal and devoted associates. During his presidency she was one of his three private secretaries, and then became an aide-de-camp and spokesperson and managed his office in his retirement. Working and traveling by his side for almost two decades, La Grange found herself negotiating with celebrities and world leaders, all in the cause of supporting and caring for Mr. Mandela in his many roles.

Here La Grange pays tribute to Nelson Mandela as she knew him—a teacher who gave her the most valuable lessons of her life. The Mr. Mandela we meet in these pages is a man who refused to be defined by his past, who forgave and respected all, but who was also frank, teasing, and direct. As he renewed his country, he also freed La Grange from a closed world of fear and mistrust, giving her life true meaning. "I was fearful of so much twenty years ago—of life, of black people, of this black man and the future of South Africa—and I now was no longer persuaded or influenced by mainstream fears. He not only liberated the black man but the white man, too."

This is a book about love and second chances that honors the lasting and inspiring gifts of one of the great men of our time. It offers a rare intimate portrait of Nelson Mandela and his remarkable life as well as moving proof of the power we all have to change.


---
Received for review.
As with most "insider accounts" of celebrities this is another attempt not to show the celebrity's private life but how wonderful the author herself is. I don't mean to say that Nelson Mandela wasn't a great person but this book isn't really about him, it's about the author and her life. It's more an autobiography than a memoir of Mandela and as such was rather disappointing.
The author seems to spend the entire book trying to convince you of how wonderful she is for making so many sacrifices to work for Mandela. She, a well off (white) woman in South Africa, had to defy her parents to go work for him. Yeah, boo hoo honey. Get over yourself. If you were truly that selfless you wouldn't be writing a book about how wonderful you are and pretending it's about Mandela.
Yes, there are some interesting insights into Mandela's life and his personality but they always take second place to her self-aggrandizing. Even when discussing the man's death she makes it about herself "I often battled with the relentless pressure.". I often battled with wanting to smack the woman while reading her book.
Overall, this is an extremely skewed view of Mandela's life but it does provide enough tidbits of information that it is saved from complete horrific status. If you're interested in Mandela's life this is not really the book to read, but if you're interested in the author's life then by all means give this a read.
★★★
☆☆
= Liked It
---
*This post may contain affiliate links*