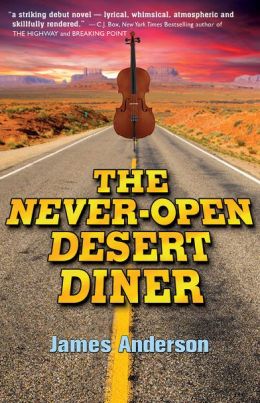 Fiction. Mystery. Ben Jones, the protagonist of James Anderson's haunting debut novel, THE NEVER-OPEN DESERT DINER (Caravel Books, 2015), is on the verge of losing his small trucking company. A single, thirty-eight-year-old truck driver, Ben's route takes him back and forth across one of the most desolate and beautiful regions of the Utah desert. The orphan son of a Native American father and a Jewish social worker, Ben is drawn into a love affair with a mysterious woman, Claire, who plays a cello in the model home of an abandoned housing development in the desert. Her appearance, seemingly out of nowhere, reignites a decades-old tragedy at a roadside café referred to by the locals as The Never-Open Desert Diner. The owner of the diner, Walt Butterfield, is an embittered and solitary old man who refuses to yield to change after his wife's death.



---
ARC received for review.
I wasn't sure at first what to expect of this novel. I was, frankly, expecting a rather run of the mill fluffy cozy mystery with a male main character instead of the usual female but this was so much more.
There is a mystery component, and certainly more than bit of romance, but there's also a deep, quite beautiful story of a man's struggle in life. You really feel for Ben as he worries about his livelihood and future. There's just something about him and the way he is written that makes you really connect with him and genuinely care about him.
Overall this was a very well written book full of heartbreak and struggle. It's not happy, upbeat, or light but it's definitely an engrossing and fulfilling read and I certainly recommend it.
★★★★
☆
= Really Liked It
---
*This post may contain affiliate links*