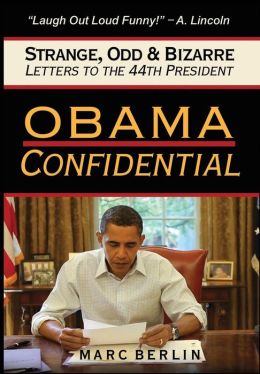 In this outrageous collection of "letters" to the 44th President of the United States, Barack Obama, we're offered a startling inside look at what's on the minds of Americans today. From celebrities as diverse as Warren Buffett, Bill Clinton, and Steven Spielberg, to anonymous everyday citizens like the minimum-wage waitress in Oklahoma and a dry cleaner named Al Kayda in Wisconsin, Obama hears it, and gets it, from everyone. And when you're the president, absolutely no subject is off-limits. An ex-student in Illinois is drowning in an ocean of debt; a harried housewife in Wyoming has dubious ideas about how to save hard-earned pennies; while a gun owner in Tennessee vigorously defends his right to bear arms. Even a Harvard classmate re-appears, with a not-so-subtle demand for money. Obama, who's obviously a very busy man, sometimes answers with a brief innocuous letter of his own. Echoing another classic of U.S. history, Alexis de Tocqueville's 'Democracy In America', 'Obama Confidential' offers a vivid, consistently amusing snapshot of America in the second decade of the 21st century, with hilarious results.


---
Received for review.
At first glance this appears to be a collection of real letters to the President, but it's not. The letters, alternately amusing and worthy of eye rolls, are all made up by the author for their humor value.
What brings this from a rather lackluster two stars to three is the narrator performance. He clearly knows the material and performs it incredibly well.

So, while the letters themselves leave a bit to be desired the performance is good and it's a fast listen at just under three hours.
★★★
☆☆
= Liked It
---
*This post may contain affiliate links*