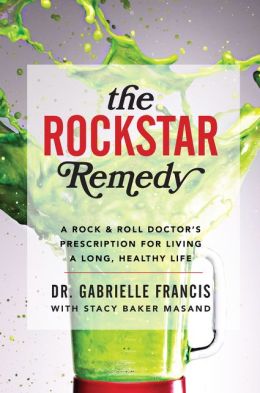 When we think of rock stars, we tend to think of extreme living: the infamous trinity of sex, drugs, and rock & roll. But the truth is, those myths are sexier than the facts. The best-kept secret of the music industry is that the majority of our rock & roll idols are committed to health—even when they party like, well, rock stars.

As a holistic physician and massage therapist to many of the music world's elite, Dr. Gabrielle Francis knows this truth firsthand. Over the course of her career, she has helped some of the biggest names in the music industry look and feel great, despite an exhausting lifestyle that both demands discipline and welcomes overindulgence. In The Rockstar Remedy, she shares the program that has helped these stars repair, recover, and refuel so that they can perform at their best.

In many ways, the health obstacles facing Dr. Francis's most famous clients are the same as those facing her everyday patients. Being overscheduled, sleep deprived, on the road, or occasionally eating or drinking to excess aren't lifestyle habits unique to the music industry—they are the same challenges we encounter all the time.

In The Rockstar Remedy, Gabrielle offers unique strategies for boosting your energy and looking and feeling your best, even when the realities of work, scheduling, parenting, and life seem to stand between you and your health goals. She explains that your health exists on a spectrum, and the simple act of making better choices every day—even if they may not always be the best choices—helps achieve balance in both mind and body. Gabrielle also shares her popular "damage-mitigation techniques," which offer simple ways to reverse the negative effects caused by less-than-perfect choices.

With exclusive interviews from artists such as Steven Tyler, Dave Navarro, Tommy Lee, Eve, and members of Megadeth, Def Leppard, Anthrax, and many more, The Rockstar Remedy offers an accessible, fun, and effective plan for staying healthy and happy in the chaos of our daily lives.
---
Received for review.
With such a great title this was hard to pass up. I had images of Stephen Tyler's behind the scenes lifestyle and this did provide some insight into the life of a rock star but it also provided quite a few ideas of how to incorporate their healing practices into your own life.
Everything is all fairly simple and nothing particularly new with suggestions on balancing your diet, getting proper exercise, and stress reduction but the author did a nice job of clearly explaining everything and outlining her plan in detail.
The behind the scenes stories of rockstar life were interesting but I seriously could have done without the story of one female lead singer's nine days of no bowel movement while in France. What disturbed me the most was that she was taking obscene amounts of laxatives which cannot be healthy. But, thankfully that gem of a story was only a page long so it was over quickly.
Overall, while there is nothing particularly new here it is well presented and easy to understand and I certainly recommend it.
★★★★
☆
= Really Liked It
---
*This post may contain affiliate links*