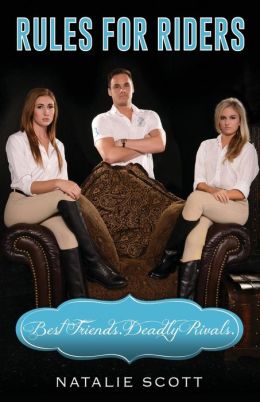 Rules for Riders is a fast and furious coming of age novel set in the world of equestrian riding. After a near fatal riding accident, Bebe Barkley is banned from riding and sent off to boarding school. There, she meets her roommate and fellow equestrian rider, Finn Foxley. The girls devise a scheme to get themselves kicked out of boarding school in order to return to the world that they love. Once back on the circuit, former friends become deadly rivals.

Enter Bebe's handsome trainer, Billy O'Reilly who will reinforce seven rules for riders in order for her to successfully compete. Through a series of tragic events, both girls are forced to abandon their dreams of Olympic gold. Bebe ventures down a dark road of self-destruction as she breaks every rule Billy taught her, only to be forced to relearn them in order to reclaim her life. Rules For Riders is a tale of lost dreams and the struggle to create new ones.



---
Received for review.
I started this thinking it was going to be a rather upbeat book about a girl who loved horses but that was not the case. Bebe does not love horses. She loves the thrill of riding but not the horses themselves. She just likes the adrenaline rush, which she could get from doing anything else.
The chapters are fairly short - just a few pages at most - which make for nice pausing points, but they also make for extremely choppy reading. There are seriously 75 chapters in just over two hundred pages. It's a bit much.
The characters are annoying at best and vile at worst and remind me of the nasty characters in Gossip Girl. It's a world of money, luxury, and beautiful people feeling sorry for themselves and hurting others.
Overall, if you enjoy reading about obnoxious people a la Gossip Girl you will thoroughly enjoy this. If not, then give it a pass as you will find it more than a bit frustrating.
★★★
☆☆
= Liked It
---
*This post may contain affiliate links*