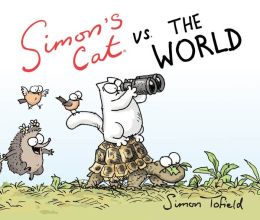 Selected by Publishers Weekly as a Big Indie Book of Fall 2013!

"Cat lovers will adore this and will nod in recognition of real-life cat behavior; cartoon fans will delight in Tofield's graceful skill in capturing the slinkiness, stealth, and self-absorption of our feline masters." --Publishers Weekly

"Fans are in for a treat as favorite characters, as well as new faces, run amok in world full of surprises." --Cat Fancy

"This book will delight fans of Simon's Cats and cat lovers, and makes a great stocking stuffer." --The Conscious Cat

"Of all of the Simon's Cat books, I believe that this one is my favorite!" --Cat Chat Blog

"A delightfully funny collection, Simon's Cat vs. the World makes an excellent giftbook for cat lovers everywhere." --The Midwest Book Review

"A fun and fast read...Great for bringing the laughs to you or the Simon's Cat fan in your life." --Catsparella

"Page by page, I enjoyed everything in this book and it made me smile. It's a keeper." --Journey of a Bookseller

"Less cynical than Garfield, and hipper than Heathcliff, Simon's Cat is irresistible." --Shelf-employed

"Lots of things happen in the pictures of this book...It is a fun book to read and look at." --San Francisco Book Review/Sacramento Book Review (Reviewed by Raif, Age 4)

"Simon's Cat vs. The World is one of those books that manages to stay interesting for both parent and child (or just a kitty-loving adult in general)...this internet-cat book does not disappoint." --Glorified Love Letters

"Single-panel illustrations distill the essence of cat humor into beautifully rendered fullcolor pages." --ForeWord Review

"Tofield's cartoons stand tall--hilarious, loving observations of a privileged and bossy housecat...What elevates Tofield's simple but expressive line drawings above the large litter of competing kitties is his keen grasp of cartoon physics and comedy cat antics. With a pitch-perfect pen, he captures the simple, realistic acrobatics of cats tumbling with toys or gracefully stretching out in the sun, and chronicles their adventures in pantomime stripes that pit them against household objects, their owner, and each other. Cat owners and aficionados will have several delighted 'Yes, cats really do that!' reactions reading this." --Publishers Weekly, on Simon's Cat in Kitten Chaos

"What sets Tofield's cartoons apart are the truly comic moments of pure cat-ness: the merciless patting at a half-dead fly, the single-minded determination, that weird little dance thing that segues seamlessly into a look of utter boredom." --Irish Times

Simon's Cat proved his authority in the house. He returned victorious from his adventures beyond the garden fence. He prevailed after the chaotic arrival of a new kitten. Now he takes on the world! Illustrated in glorious full color, this volume explodes from the page with mesmerizing levels of detail. Simon's Cat films have over 360 million YouTube views!
---
Received for review.
I'm a huge Simon's Cat fan and watch him all the time on YouTube so when I saw his new book I, of course, snapped it up. There may possibly have been a Gollum type moment where I stroked the cover and murmured "My Precious".
This was just as fun as the other Simon's Cat books that I've read. The artwork, obviously, was beautifully done. It's so nice to see Simon's Cat in color!
All the scenes were completely adorable but my favorites were Zebra, Oscar, Sharing, Novelty Hats, the Beanbag, and the Kitchen Window.
There was also a lovely sheet of Simon's Cat stickers which I did not share and have now plastered on my phone (case) and every other available surface.
This is a must have for all Simon's Cat fans! It is also a lovely read for any cat lover in general. I definitely highly, highly recommend it!
★★★★★
= Loved It
---
*This post may contain affiliate links*