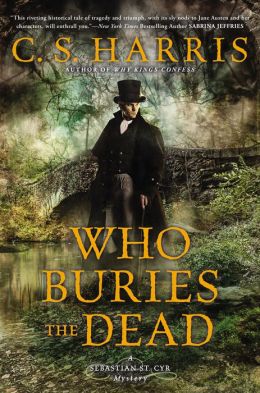 The grisly murder of a West Indies slave owner and the reappearance of a dangerous enemy from Sebastian St. Cyr's past combine to put C. S. Harris's "troubled but compelling antihero" (Booklist) to the ultimate test in this taut, thrilling mystery.

London, 1813. The vicious decapitation of Stanley Preston, a wealthy, socially ambitious plantation owner, at Bloody Bridge draws Sebastian St. Cyr, Viscount Devlin, into a macabre and increasingly perilous investigation. The discovery near the body of an aged lead coffin strap bearing the inscription King Charles, 1648 suggests a link between this killing and the beheading of the deposed seventeenth-century Stuart monarch. Equally troubling, the victim's kinship to the current Home Secretary draws the notice of Sebastian's powerful father-in-law, Lord Jarvis, who will exploit any means to pursue his own clandestine ends.

Working in concert with his fiercely independent wife, Hero, Sebastian finds his inquiries taking him from the wretched back alleys of Fish Street Hill to the glittering ballrooms of Mayfair as he amasses a list of suspects who range from an eccentric Chelsea curiosity collector to the brother of an unassuming but brilliantly observant spinster named Jane Austen.

But as one brutal murder follows another, it is the connection between the victims and ruthless former army officer Sinclair, Lord Oliphant, that dramatically raises the stakes. Once, Oliphant nearly destroyed Sebastian in a horrific wartime act of carnage and betrayal. Now the vindictive former colonel might well pose a threat not only to Sebastian but to everything—and everyone—Sebastian holds most dear.
---
Received for review.
I've read several of the Sebastian St. Cyr mysteries and thoroughly enjoyed them so I knew this would be another winner, and it was.
Sebastian is a genuinely likable character and I really enjoy his interactions with not only his sources but his family as well. This volume featured an appearance by Jane Austen as well. I'm not actually a fan of the real Austen's works but it was fun to see her in the novel, cast as a Miss Marple type. It's fun to see historical characters in new roles.
The mystery itself was well crafted and intriguing and kept me turning the pages as fast as I could read them.
This is a lovely addition to the series and works equally well as a stand alone mystery. I certainly highly recommend it.
★★★★
☆
= Really Liked It
---
*This post may contain affiliate links*