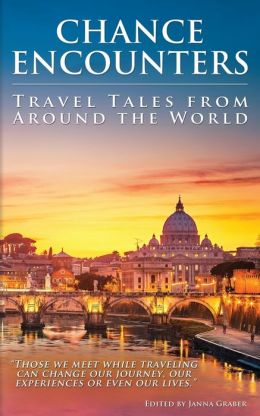 Travel never goes quite like we expect. Planes are late, maps are misread and detours are made. When this happens, the twisting roads of travel can lead to adventures we never imagined -- and lessons we never expected to learn. Sometimes, if we're lucky, we cross paths with people who show us life from a different angle or provide kindness when it's needed most.

Those we meet while traveling can change our journey, our experiences or even our lives. Come along with some of the world's top travel writers as they share their stories from around the globe.

* Meet three Americans who help a Belgian woman find her voice
* Bust a move with harmonica-playing pygmies in Uganda
* See how a former enemy can become your friend
* Watch a Kenyan girl face a heartbreaking custom with bravery
* Learn from a wise young monk as he hikes in Bhutan
* Marvel at the kindness of strangers in Japan
* Take an unforgettable elevator ride with a courageous young woman in Paris
* Gain new understanding during an unspoken conversation in Cambodia
* Experience Nepal through the eyes of a child
* Take a wild ride in Turkey depending only on the kindness of strangers And many more...

Chance Encounters: Travel Tales from Around the World includes works from the following contributors:

• Rick Neal
• Kimberley Lovato
• Michele Peterson
• Janna Graber
• Rob Woodburn
• Cece Romanyshyn
• Margie Goldsmith
• Annia Lekka
• Christina Hamlett
• Gabriella Brand
• Rick Zullo
• Peter Mandel
• C. Lill Ahrens
• Nithin Coca
• Shilpa Gupta
• Bill Wasserzieher
• Sofie Couwenbergh
• James Michael Dorsey
• Rebeca Dunn-Krahn
• John A. Kumiski

For more information on each contributor, see http://tinyurl.com/k4q8xsx
---
Received for review.
I can never pass up a travel book since it's always so interesting to have an armchair adventure so I was intrigued when I saw this. I think I was hoping for an upbeat collection of travel stories a la Erma Bombeck but this was an alternately sad and sweet collection.
Many of the stories are more depressing than uplifting, but each one is interesting and quite educational in its own way. More than once I found myself tearing up as I read the stories and the book was quite an emotional journey.
My favorite story was Blowing the Blues with the Batwa, which was one of the very few stories that left me smiling instead of sniffling.
Overall, this is a touching collection of stories that makes for very good reading and I certainly recommend it.
★★★
☆☆
= Liked It
---
*This post may contain affiliate links*