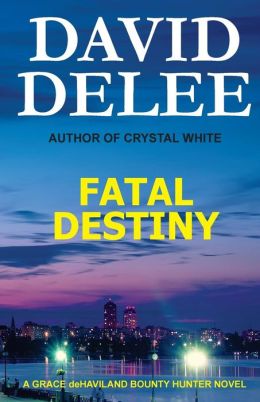 Stolen mob money! Ruthless hit men! A Past that won't stay dead and buried! An action-packed thrill ride by the author of CRYSTAL WHITE

For bounty hunter Grace deHaviland the job seemed simple. Track down Barry Keegan, an accountant in a white collar criminal case who jumped bail. How hard could that be?

But the case turns deadly when a co-defendant ends up murdered and Grace's best friend, sheriff's deputy Suzie Jensen, is nearly killed. Can Grace track down the elusive Barry Keegan--a man more dangerous than anyone could've guessed--while she tries to protect his wife and son from a violent past they thought dead and buried?

The exhilarating first novel in the Grace deHaviland Bounty Hunter series.



---
Received for review.
I wanted to like this a bit more than I did because it sounded really good. I guess I was hoping for more of a Stephanie Plum from the books type of character but the reality was more of the poorly acted Katherine Heigel version of Stephanie Plum. Grace was an acceptable character but not one that you could really connect, with or would want to. Barry and his wife weren't exactly gems of people either.
The story was well written and fast paced with plenty of twists and turns. I wasn't entirely thrilled with the ending and the reasoning behind it but it was an interesting choice.
Overall, I wouldn't rush out to buy this but if you come across it it is certainly a solid read. I look forward to seeing how the author develops Grace's character in future books in the series.
★★★
☆☆
= Liked It
---
*This post may contain affiliate links*