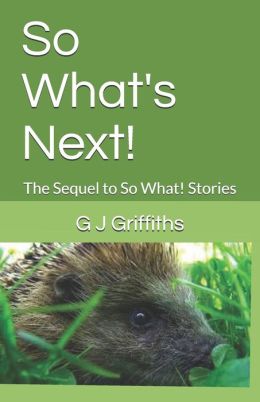 Molly Pearson is a young Biology teacher with two passions in her life: a strong commitment to protecting wildlife; and a desire to encourage the children in her classes to feel the same enthusiasm for Nature. When her class decide they would like to restore the school's neglected and vandalised nature corner her hopes are raised and challenged at the same time. The hurdles that she meets along the way will include bullied and bullying pupils, as well as the expected ones of finance and willing manpower.

But leaping those fences does not prepare the ambitious Molly for a dramatic fire and the confusion of a new passion in her life, in the form of Oliver Shrimpton. Will he become that significant someone, or is he just another obstacle for her to overcome?

G J Griffiths' latest novel, in the So What! series of stories, is still based firmly around the events that take place within the "walls" of Birch Green High School. It follows some of the trials and tribulations of Molly Pearson, a previous novice teacher who was mentored by Robert Jeffrey - the main character from the first book. Molly's efforts to spread the important message, about protecting wildlife and the natural environment, reflect something that has always been important to the author. For that reason some of the proceeds from the sales of this book will be donated to wildlife charities.

In addition to offering a charming tale of schoolchildren protecting the wildlife around their school, the later chapters of the book contain much helpful information to nature lovers who wish to make their garden more "wildlife friendly".
---
Received for review.
This was an interesting literary read. It dealt with complex subjects that teachers must always be aware of such as bullying although there was quite a bit of bullying going on and I certainly wouldn't want to attend that school - or send my child to it!
While nicely written this was a bit on the slow moving side. Things sort of meandered along and I found myself reading slower and slower as I turned each page. The story was solid, just slow with rather bland characters.
Overall, this is a good if not great read that is sure to please those in search of a more literary reading experience.
★★★
☆☆
= Liked It
---
*This post may contain affiliate links*