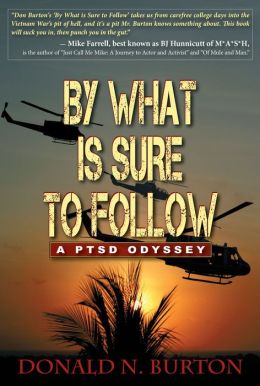 Ex-Marine Force Recon Luke Sims is a veteran of two wars: Vietnam and the one inside his head. He's spent the last fourteen years attending self-help group sessions at a local Veterans' Center to help him be normal, to cope with the memories and trauma of his tour of duty. On the outside he seems fine. But looks can deceive and it's not long before Luke goes to war with his incredible skill set against his inner demons and the depth of his pain is at last revealed-with deadly consequences.

Based on real in-country legendary events of uncommon valor, unbelievable luck and supreme dedication to brethren, By What Is Sure To Follow dramatically follows one veteran's path, chronicling unknown exploits into North Vietnam during the early years of the Vietnam War. With stark realism, it reveals the potentially devastating aftereffects of Post Traumatic Stress Syndrome (PTSD) on those who go to war and painfully decries the failure of a nation to protect and heal its warriors when they come home broken.


---
Received for review.
This was an interesting if not particularly enjoyable read. It's dark and depressing and that dark, depressed feeling lingers with you long after you've closed the book.
PTSD is an important topic and this covers the subject very well but it was just depressing (yes, I know) that it was tough to continue reading for any length of time. As such it took me approximately forever to slog my way through.
Overall, while very nicely written with well developed characters and all too realistic action this is not an enjoyable read. If you are interested in the topic it is sure to be educational though.
★★★
☆☆
= Liked It
---
*This post may contain affiliate links*