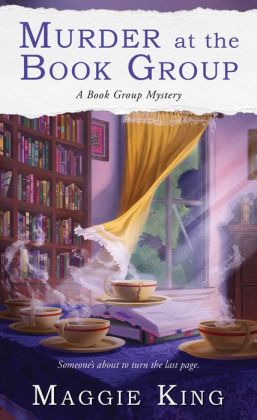 For fans of Anne Canadeo comes a fun and sassy cozy mystery in which one woman must solve the murder of a book group member and untangle a web of secrets hidden by her bookish cohorts.

Hazel Rose never dreamed that the murder mystery book group she and her friend Carlene started would stage a real murder.

Nevertheless, the normally composed Carlene is unusually angry and rattled one night during a book group discussion and dies after drinking cyanide-spiked tea. Despite a suicide note, Hazel is skeptical; Carlene never seemed suicidal—she was busy making plans for her future. Incidentally, Carlene was married to Hazel's ex-husband, and Hazel has always suspected there might be something more to her past than she let on.

How much does anyone really know about Carlene Arness? And did she die by her own hand or someone else's? Hazel begins a search for the truth that produces no shortage of motives, as she unearths the past that Carlene took great pains to hide. And most of those motives belong to the members of her very own book group…

Featuring memorable characters and a wicked sense of humor, Murder at the Book Group shows the darker side of a book club where reading isn't about pleasure—it's about payback.
---
ARC received for review.
I love my cozy mysteries and routinely snap up the latest releases at the very first opportunity so I was thrilled to receive this.
I really liked the idea of a murder at a book club but oddly the murder and its surrounding mystery seemed to be used only as a goal to get the author's feminist views across. The main character works at a Women's Resource Center, hates porn, and seems to find an inordinate number of things to be sexist. Her constant diatribe is just distracting at best and teeth grating at worst.
Overall, while well written what could have been a light, interesting cozy turned out to be some sort of social commentary that was not amusing in the least. I really cannot recommend this at all and I certainly will not be reading future releases from the author.
★★
☆☆☆
= Just Okay
---
*This post may contain affiliate links*