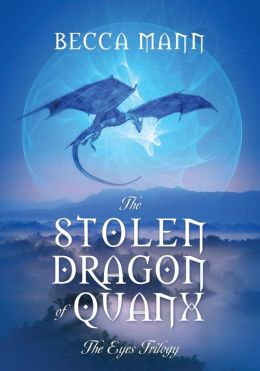 In Quanx, there is no hiding who you are.... In a land of tribes where people are defined by the color of their eyes, disaster is ready to strike. With peace barely hanging by a thread, the King of Vitchreonyo makes a risky decision. What he doesn't know is that his plan may not end how he thinks.... Then Kale, a fisherman's daughter, is trapped in a tunnel where she makes a shocking discovery. And that discovery may very well lead to the destruction of her entire world. Kale takes up a challenge of following a path forbidden to her in a race to save Quanx from a tribe of conniving dragons. With the help of three uncooperative companions, Kale must steal a dragon egg or die trying. The Stolen Dragon of Quanx is the first novel in The Eyes Trilogy, a compelling new series that will pull you into a fascinating world...and leave you breathlessly waiting for the sequel!





---
Received for review.
This a nice, light, enjoyable read that favorably reminded me of Angie Sage's books. The author did a lovely job of creating a world full of characters that you actually care about doing things that actually make sense all without using any bizarre terminology or difficult to decipher languages.
The story has a pleasant, fast pace and just zips right along. The only slightly distracting feature is that the language is very modern with quite a bit of slang. Phrases such as "no pain, no gain" are used and take away slightly from the immersion in the story while reading.
Overall though, this is a solid read and I recommend to anyone who enjoys reading young adult fantasies.
★★★★
☆
= Really Liked It
---
*This post may contain affiliate links*