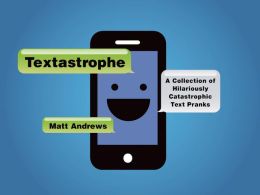 Once upon a time, prank phone calls were the best way to procrastinate, but in 2015, they're so passé. Instead, Matt Andrews has mastered the art of prank texting. What happens when you offer to barter two sub-sandwiches for a used motorcycle? Who do you call when you want to build a mysterious man cave in your basement? What do you do if you need a knight in shining armor to deliver you to your high school reunion? If you've ever left a "contact me" pull-tab at your local grocery or posted an ad on Craigslist and received insane and unbelievable text messages in response, Andrews is very likely to blame. We'd be mad at him if we could stop laughing long enough to hit "send" on the exceptionally witty come back we thought of...too bad he's already moved on to his next target and deleted us from his phone, now only to be remembered in these pages of his laugh-out-loud funny book.
---
Received for review.
From the description I thought this was going to be quite funny and be a fun way to spend an hour or so reading. It wasn't. It was mildly amusing at best. The pranks were tasteless and on par with something a twelve year old boy would come up with. Not a single "joke" inspired a laugh, let alone a smile.
Overall, if you enjoy childish pranks worthy of Bart Simpson then this is the perfect book for you, otherwise give it a pass.
★★
☆☆☆
= Just Okay
---
*This post may contain affiliate links*