Candise Jordan, author of The Fit & Flavorful Kitchen Makeover, stopped by for an interview.


---
Can you tell us a little bit about yourself?
My name is Candise but my clients call me "Killa Candise" I got that nickname from my Killer workouts lol.
Besides fitness and nutrition programs I also provide meal preparation services for my local clients because I loooooove to cook.
I call myself a fit foodie because I love to eat and try new foods which is why it is important for me to create delicious healthy alternatives otherwise I'd probably be overweight. Did I mention I REALLY love to eat lol
What do you do when you're not writing?
When I'm not writing you can find me in the gym, in the kitchen or somewhere enjoying family time.
When did you first start writing?
I started writing a few years ago. I wrote my first book "From Pot Belly to Flat Belly" which was a fitness, nutrition and detox program. Since then a lot of things in the food industry have changed so I wanted to write this new book and showcase these new cooking appliances and healthy ingredient alternatives.
Is there any particular author or book that influenced you in any way either growing up or as an adult?
I'm a big fan of Diana Keuilian cookbooks. She uses a lot of healthy recipes that are delicious!
What inspired you to write this particular book?
Many of my clients actually suggested it. I always give cooking & nutrition tips via social media and my email list so they started requesting that I write a book.
Every time I would post a picture of a meal I prepared they would request the recipe so I gathered up a few of my favorites and put in the book.
What was your favorite chapter (or part) to write and why?
My favorite part of the book is where I explain how your actual cooking tools can help you cut calories and prepare more nutrient dense meals.
A lot of nutrition books and cookbooks discuss ingredients and the steps to prepare the meals but I wanted to take it a step further and show you which tools are best to cook those meals.
By switching to a non stick pan you can save calories by using less oil. By using the herb keeper you'll save money on fresh herbs but making them last longer.
If you revamp your kitchen with the suggested cooking appliances you will see results!
Is there anything else you'd like your readers to know about the book?
This is not a diet program and this is not a traditional cookbook. Although I share many recipes in this book the main focus is to transform your kitchen and the way you cook so that your meals help you instead of harm you.
Just by simply swapping out a few ingredients for healthier versions, learning to add more spices in exchange for sodium, learning to read labels so that you select healthier options instead of what the food companies wants you to think is healthy you WILL lose weight, you WILL have more energy, and you WILL be healthier!
---
About the book: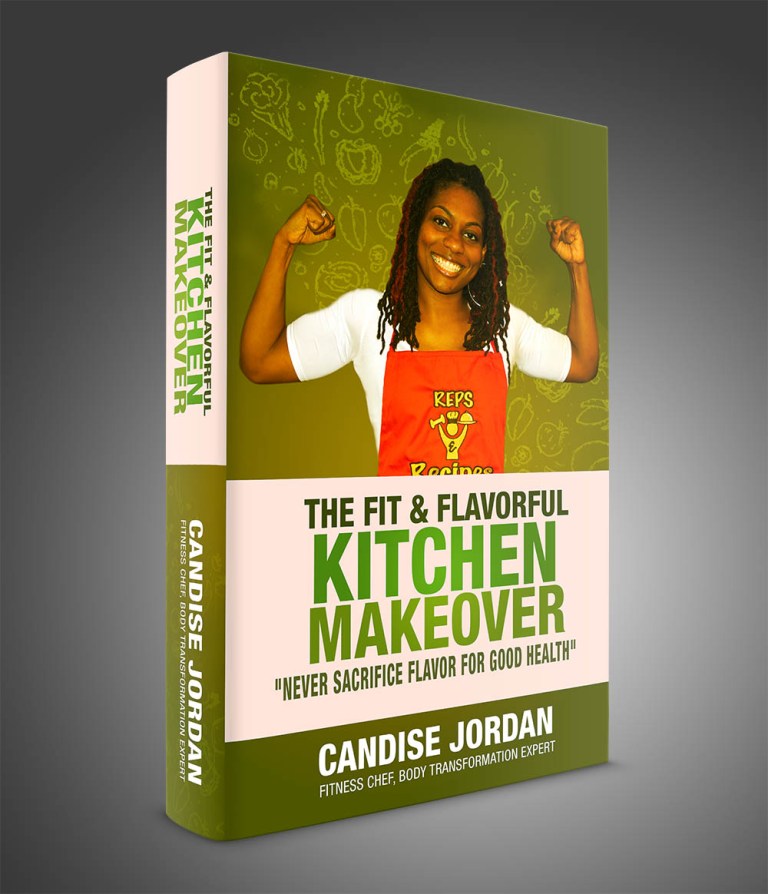 Do you hate dieting?

If you answered yes then this book is for you!

Instead of following some boring flavorless menu I'll teach you how to revamp your favorite recipes in order to burn fat, combat disease, and feel better than you've ever felt!

Never sacrifice flavor for good health!






---
About the author:
| | |
| --- | --- |
| | Candise Jordan, is a Certified Personal Trainer, Fitness Chef and Nutrition Coach. She has been in the industry for 10 years helping her clients transform into happier & healthier versions of themselves. As a single mom she understands how hard it is to squeeze in time to exercise, grocery shop and cook for the family so she has made it her mission to make health CONVENIENT! After becoming a chef she began revamping both her own and her clients favorite recipes by making simple ingredient swaps, using less ingredients to save money, and easy preparation to save time. After her clients began to lose weight she decided to write a book in order to help even more people. |
---