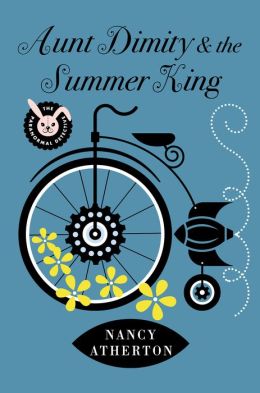 Cozy mystery lovers' favorite paranormal sleuth is back with her twentieth otherworldly adventure

It's June, the roses are in bloom, and the small English village of Finch may be in big trouble. Two cottages are for sale, but something—or someone—is driving buyers away. Has a developer targeted Finch? Will property values skyrocket? Will a wave of wealthy weekenders drive out the longtime locals?

Lori Shepherd has a lot on her plate—a brand-new baby daughter, her father-in-law's impending nuptials, and a visit from her dreaded aunts-in-law—but she refuses to stand back and watch while big money destroys her beloved village. Lori suspects that a local real estate agent is illicitly lining her pockets at Finch's expense, but before she can prove it, she's sidetracked by a chance encounter with eccentric inventor Arthur Hargreaves, dubbed the Summer King by his quirky family, is as warmhearted as the summer sun. In his presence, Lori forgets her troubles—and Finch's.

Lori snaps out of her happy trance when a series of unsettling discoveries shakes her faith in Arthur Hargreaves. She stumbles across a detailed map of Finch in Hillfont Abbey. An ancient feud between Finch and the Hargreaves family comes to light. Arthur appears to be making secret deals with the shady realtor. Is the Summer King as kind as he seems?

With Aunt Dimity's otherworldly help—and her new baby girl in her arms—Lori mounts a crusade to save her village from the Summer King's scorching greed.
---
Received for review.
I simply cannot pass up a cozy mystery. It's an addiction. So, I was excited to read this, even though I hadn't read previous volumes in the series.
I wasn't sure quite to expect jumping in midway through the series, but the author did a lovely job of recapping things and bringing the reader up to speed quickly so there was no confusion.
This was a cute little mystery and quite entertaining. For the most part I liked the characters and the charming village setting. I was a bit confused and, frankly, put off by the main character's having an infant daughter. I'm still not sure why that was even necessary, except to pander to a certain reader demographic who enjoys reading about diapers and other baby stuff. For a mystery reader the constant baby discussions just serve as something to skim through until you can return to the "real" story.
Overall, this was a cute, fluffy read and perfect for Chick Lit lovers venturing into the Cozy world. However, if you are a regular cozy reader who does not enjoy the constant reminders of the "joy of motherhood" then you may want to give this a pass.
★★★
☆☆
= Liked It
---
*This post may contain affiliate links*