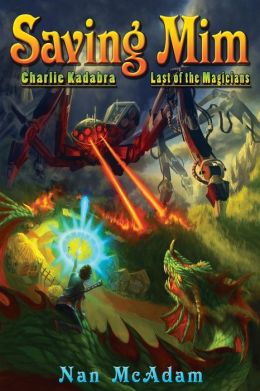 Abandoned as a baby in a world without magic, Charlie Kadabra doesn't know he is the last of a breed of Magicians who were the guardians of Mim. All the Magicians are gone, killed by the evil Dr. Pi who wants to destroy Mim and all the magic. When Mim dies, all the magic in all the universes will perish with her, leaving only chaos. Dr. Pi wants to rule the World of Chaos. Charlie and his magical friends are on an edge-of-your-seat quest to save Mim. Can Charlie find all the jewels of power for the Magician's staff his father left him before Mim and all her magical creatures are destroyed?

This magical tale will delight readers ages ten to adult. Charlie Kadabra is a character everyone can relate to. He will give you a few chuckles and maybe a tear or two. One thing is for sure, you will feel better for your time spent with Charlie and friends.





---
Received for review.
I was expecting a fairly fast and standard magical type read on par with Angie Sage's books and this was exactly what I got.
There is nothing spectacular about Charlie. He's a pretty typical Harry Potter type character who didn't know he was magical, etc., etc. There's really not much to set him apart or make him particularly interesting. He actually seems like more of a sidekick character than a true hero type but he's okay.
With a rather predictable story line and bland characters I was expecting to enjoy this less than I did but it was a surprisingly entertaining, quick read. Younger readers who enjoy magical worlds should enjoy this.
★★★
☆☆
= Liked It
---
*This post may contain affiliate links*