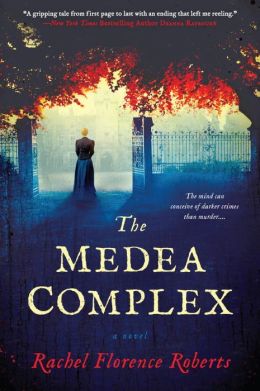 A deep and riveting psychological thriller inspired by true events of the Victorian era, The Medea Complex explores the nature of the human psyche: what possesses us, what drives us, and how love, passion, and hope for the future can drive us to insanity.

1885. Anne Stanbury wakes up in a strange bed, having been kidnapped from her home. As the panic settles in, she realizes she has been committed to a lunatic asylum, deemed insane and therefore unfit to stand trial for an unspeakable crime. But all is not as it seems….

Edgar Stanbury, her husband as well as a grieving father, is torn between helping his confined wife recover her sanity and seeking revenge for his ruined life. But Anne's future rests wholly in the hands of Dr. George Savage, chief medical officer of Bethlem Royal Hospital.

The Medea Complex is the darkly compelling story of a lunatic, a lie, and a shocking revelation that elucidates the difference between madness and evil….
---
Received for review.
Very few books have me wondering what the heck just happened as I close the book and this was one of them. I think I actually said it out loud. It was that good.
The story is compelling from the very first page and draws you right in. I was flipping the pages as fast as I could read them wondering just what the heck was going on and, more importantly, why. While I didn't actually like the characters I found them fascinating and the way they interacted to be quite intriguing.
This is not a book you read after dark, and if you do you'll be sleeping with the lights on. It's dark and creepy and disturbing and leaves you feeling wanting to do a Joey and put it in the freezer during reading breaks.
This is also not a book for feminists who will, predictably, find the historically accurate but not politically correct treatment of women to be teeth grindingly unacceptable.
Overall, this was a truly engrossing read that I thoroughly recommend to anyone looking for a book you simply cannot put down. Penny Dreadful fans should thoroughly enjoy it. I highly recommend it.
★★★★
☆
= Really Liked It
---
*This post may contain affiliate links*