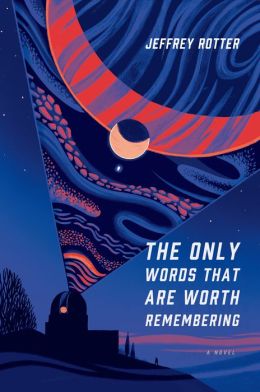 A darkly comic, wildly original novel of a family in flight from the law, set in a near-future America -- a Clockwork Orange with a Huck Finn heart

In a not-so-distant future, astronomy has become a fairy tale, Copernicus is forgotten, and the Earth has resumed its lonely spot in the center of the universe. But when an ancient bunker containing a preserved space vehicle is discovered beneath the ruins of Cape Canaveral, it has the power to turn this retrograde world inside out.

Enter the Van Zandt clan, whose run-ins with the law leave them with a no-win choice: test-pilot the rocket together as a family or be sent separately to prison for life. Their decision sets off an antic and heartbreaking search for human solace in a world bent on isolation, as the Van Zandts embark on an unforgettable road trip across the ass-end of an America only slightly more dissolute than our own.

Uniquely tying an absurdist future to gut-bucket wit, The Only Words That Are Worth Remembering hauls our dark humanity into the light and shows us the precious places where it gleams.
---
Received for review.
This sounded vaguely interesting but I just couldn't get into it. Most of that was due not only to the characters, who were just not engaging, but also the horrendous folksy tone the author used for the narrator. I found myself asking, sometimes even aloud "Seriously, are you kidding me with this?".
The story was supposed to be fun but with characters so alternately boring and annoying I didn't care what they were doing as long as it ended as quickly as possible. Anything to make it stop.
Overall, this was not enjoyable, light, or witty read as suggested. It was yawn inducing and grating and I really cannot recommend it.
★★
☆☆☆
= Just Okay
---
*This post may contain affiliate links*