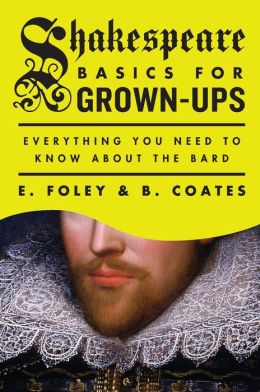 An essential guide to Shakespeare, from the international bestselling authors of Homework for Grown-Ups

The Bard was so incredibly prolific that even most Shakespeare scholars would welcome the occasional refresher course, and most of the rest of us haven't even got a clue as to what a petard actually is. Fear not, the bestselling authors of Homework for Grown-Ups are here to help. For parents keen to help with their children's homework, casual theatre-goers who want to enhance their enjoyment and understanding, and the general reader who feels they should probably know more, Shakespeare Basics for Grown-Ups includes information on the key works, historical context, contemporaries and influences, famous speeches and quotations, modern day adaptations, and much, much more.







---
Received for review
I'm the first to admit I truly loathed Shakespeare in high school and college and did not enjoy a single moment of slogging through his works for courses. As an adult I have developed a grudging admiration for the man as a writer (which was mostly due to an episode of Doctor Who) so when I saw this I figured it was the least painful way to give myself a refresher course on Shakespeare.
The authors did a brilliant job of translating the rather impenetrable Shakespearean world and text into wording that is readily understandable and not headache inducing. This is essentially the Cliffs Notes version of Shakespeare's entire works. It reduces everything to its absolute essentials and makes it tolerable for those of us without English degrees.
Overall, while I still would not rush out to read Shakespeare this was a wonderful look into all of his works, characters, and famous speeches. I highly recommend it for anyone who is looking for a clear, concise guide to the Shakespearean world.
★★★★
☆
= Really Liked It
---
*This post may contain affiliate links*