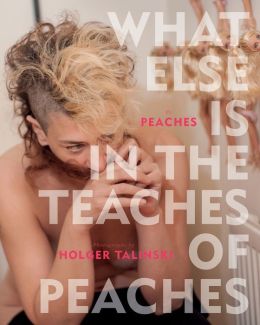 "[Peaches] has teamed up with her longtime tour photographer Holger Talinski to look back at a brazen career that has captured the attention of outsider artists and massive pop stars alike, ranging from Michael Stipe to PJ Harvey to Iggy Pop...Along with Holger's uncompromising, often raw imagery, the book includes stories from artists who have championed Peaches's work over the years." --New York Times T Magazine

"One flip through the glossy new monograph What Else Is In the Teaches of Peaches is all it takes to get absorbed into the post-punk wonderland of pop culture icon Peaches." --W Magazine

"Peaches is an attitude and a sensibility....She's iconic, and her iconography is important." --The Globe and Mail

"What Else Is in the Teaches of Peaches, a new book of photography, attempts to capture more: Peaches onstage, backstage, in her 30-boob breastplate, on the crapper, on a cross, passed out, convalescing, performing for Yoko Ono, curled up with family, recording with Iggy Pop. It's a groupie's delight." --SF Weekly

"For Peaches fans, the collection offers glimpses into both the public and private life of the artist who put feminist electroclash on the map. Peaches led the way, not only for other underground electronic acts like Le Tigre, Ladytron, and Chicks on Speed, but also artists that went on to major mainstream success. Would M.I.A. exist without Peaches? Lady Gaga? In her current iteration, Miley Cyrus?...In the end, [What Else Is in the Teaches of Peaches] is a reminder that Peaches, the artist and the musician...forged a vibrant, genre-bending career that continues to throb with spirit, transgression, energy, and ambition." --KQED Arts

"The outrageous and provocative new book...presents [Peaches] as more than the onstage provocateur most know her to be; instead we see her at home with family, rehearsing, sprawled out backstage, exhausted from giving her fans the musical lunacy they crave." --Frontiers Magazine

"Peaches is ferocious, relentless, sexy, confident, and gives all of herself to her audience...She is a person who inspires." --Ellen Page, actress, from the book

"Peaches is an incredible artist...Thank you, Peaches, for adding a long and exciting life to performance art." --Yoko Ono, from the book

"Peaches stands tall and she is fearless. That is my definition of a hero, heroine, progressive, icon--locked in, and ready to rumble." --Michael Stipe of R.E.M., from the book

This volume presents a mesmerizing collection of Holger Talinski's evocative and sometimes erotic photos of transgressive musical icon Peaches, on and off stage, with accompanying text by Peaches, Michael Stipe (R.E.M.), Yoko Ono, and the actress Ellen Page, best known for her lead role in the film Juno, which garnered her an Oscar nomination for Best Actress.
---
Received for review.
I'll admit that I was a bit sketchy on Peaches and her
music
before receiving this but I was intrigued by the concept and had to give it a try. I'm quite pleased that I did.
This was an intriguing look in to the artist's life and work and, I really liked that the pictures weren't perfect or retouched. This is the artist at her best and worst. It shows her as powerful, vulnerable, joyful, and exhausted. It's a very raw and real look into her life and is really quite emotional.
This is a must have for fans and an interesting read for those recently introduced to the artist. I certainly recommend it.
★★★
☆☆
= Liked It
---
*This post may contain affiliate links*