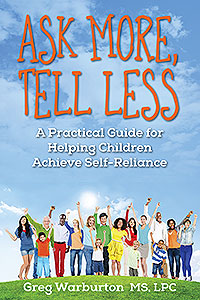 When faced with a misbehaving child, do you find yourself resorting to lecturing, reminding, or even yelling? Do you sometimes feel helpless and panicky after you have tried everything you know to do and your child still seems "out of control" or withdrawn? Do you feel frustrated when nothing you are doing is moving your children to be responsible and achieve their unique potential?
Ask More, Tell Less provides a new model of parenting that can help transform the growing-up years. Life will become fulfilling and enjoyable rather than an ongoing, painful collision of wills. Behavior troubles diminish or vanish when children discover that they have the power to make their lives run more smoothly. These methods are not a "cater to the children" approach. Instead, they take the pressure off parents and put the whole family on a positively different road, traveling together in a land of mutual dignity and respect, maturity, and lasting change.

Greg Warburton brings time-tested, practical methods out from behind the counselor's door to enable you to give your children the greatest gift of all: self-reliance. Through artful questioning, you can give them a clear and compelling road map for getting on with growing up in this rapidly changing world.
---
---
About the author:
Greg Warburton is a licensed mental health counselor who helps children and parents become instruments of their own healing and change. He is a dedicated innovator who brings emotional and mental self-management methods into the worlds of parenting and sport performance.

As an award-winning college instructor, he helps people eliminate self-defeating behaviors and achieve the inner freedom that comes with becoming self-reliant. He lives in Corvallis, Oregon with Valoy, his wife of 31 years.
---